SOWF's Top Four Significant Events of 2022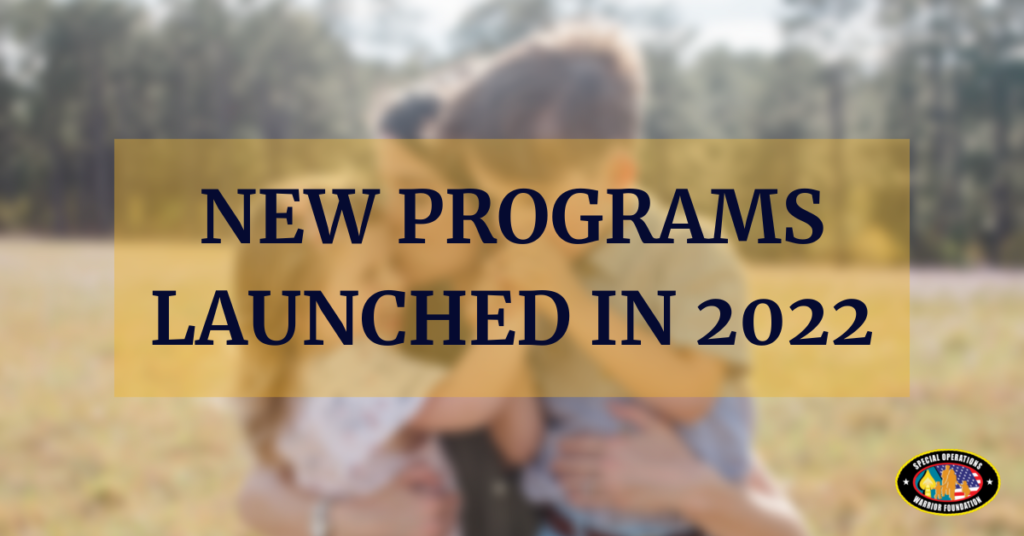 New Programs Launched in 2022
Special Operations Warrior Foundation has proudly launched three new programs in 2022 including Private School Tuition Assistance, Home School Stipend, and High School Summer Enrichment Programs. In addition to adding new programs, we have also increased college visit reimbursement from $3,000 to $5,000 per student, increased college application reimbursement from three to five applications and added support for graduate school application fees and professional licensure fees.
A Day Inside Special Operations
This past April, SOWF, along with 15 donors, gathered for 'A Day Inside Special Operations' at Fort Bragg, North Carolina. This unique experiential opportunity provided participants with a glimpse into both the training regiments and the breadth of sacrifices made by Quiet Professionals and our Special Operations community as a whole.
SOWF Also Salutes Spouses
In recognition of the faithful and loving support of spouses of Special Operations Personnel, SOWF has expanded eligibility for educational programs and services to include children of active SOF Personnel who lose their spouse (non-military or dual military), dating back to September 1, 2018. Their children will now receive the same "cradle-to-career" (preschool – college) benefits as all other children in SOWF's educational programs.
The Lone Star State Shined
On Saturday, September 24, SOWF hosted Join Forces: Texas Style – The Sequel, presented by CRESTCARS.COM at the Omni Hotel in Dallas. This memorable major fundraising gathering featured much star quality – our host, Lindsay Draper, a customized personal video by actor, philanthropist and friend of SOWF, Gary Sinise, compelling words from SOWF Chairman, former four-star General "Tony" Thomas, a thoughtful and dynamic talk from guest speaker, former Army Ranger and NFL Pro Bowl lineman, Alejandro Villanueva, an inspiring message from SOWF student graduate, Boston Gilbert, as well as a very special appearance by Medal of Honor Recipient, Sergeant Major Matt Williams.
We extend our sincere gratitude to all of the sponsors, donors, and supporters who contributed during 2022, enabling us to continue honoring the legacy of America's Finest. All of us at Special Operations Warrior Foundation would like to wish you and your family a very Happy New Year!