SOWF student graduate, Boston Gilbert with SOWF President and CEO, Major General (Ret) Clay Hutmacher.
On Saturday, September 24, SOWF produced Join Forces: Texas Style – The Sequel, presented by CRESTCARS.COM at the Omni Hotel in Dallas. This memorable major fundraising gathering featured our host, Lindsay Draper, a customized personal video by actor, philanthropist and friend of SOWF, Gary Sinise, compelling words from SOWF Chairman, former four-star General "Tony" Thomas, a thoughtful and dynamic talk from guest speaker, former Army Ranger and NFL Pro Bowl lineman, Alejandro Villanueva, an inspiring message from SOWF student graduate, Boston Gilbert, as well as a very special appearance by Medal of Honor Recipient, Sergeant Major Matt Williams.
During the cocktail reception, guests bid on a variety of silent auction items, including memorabilia from athletes who starred in Texas at some point in their budding careers – Patrick Mahomes III, Nolan Ryan, Emmitt Smith, Tony Romo, "Mean" Joe Greene, Mia Hamm, Mike Evans, Marcus Semien and Tony Dorsett, along with a football signed by 15 Heisman Trophy winners.
To sound-off the dinner program, members of the University of Texas Longhorn Band marched towards the stage, and then later in the evening, seven live auction packages were auctioned off! First up was an in-state helicopter hog hunt, followed by what turned out to be a special segment that kicked the festivities into high gear for the evening – SOWF Ambassador,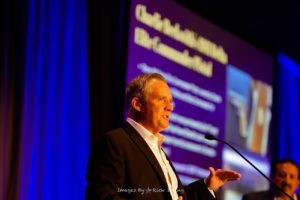 Matthew Quinn, who donated a 1911 Delta Elite Commander Pistol, previously owned by Charlie Beckwith, the creator of Delta Force and U.S. Army Special Force officer during Operation Eagle Claw, shared the historic importance of the pistol and bidding quickly escalated. Up next was a wine barrel from Rodgers Creek Vineyard in Napa Valley, California, then a three-night stay for 14 guests with a variety of amenities at the Mike Durant family's luxurious Tuscany-style getaway in Vail Valley, followed by a barrel of whiskey and various perks at Bardstown Bourbon Company, ending with what we thought would be the final package, a four-night stay at the Alpine Falls Ranch in Montana for up to 10 adults and six children complete with many generous amenities. Suddenly, to the total surprise of our attendees, the room was treated to an "in the moment" on-stage offer from Yellowstone actors Cole Hauser (character: Rip Wheeler) and Forrie J. Smith (character: Lloyd Pierce) – an on-location Yellowstone show experience for multiple guests, including horseback riding with Cole and Forrie along with several other comforts and benefits. If that wasn't enough, based on audience response, the duo added a second package with an identical opportunity.
SOWF truly thanks our sponsors, participants, SOWF board of directors and Ambassadors, anyone who traveled in, all who attended and everyone who contributed in any way—you all truly made a difference by your involvement. Also, a very special thanks to Cole Hauser for once again spearheading this overall effort—we hope you bring your friend Forrie along again in 2023!