My children and I have been a part of the SOWF family since October 2019 when my husband, Peter Kraines, passed away in a military training accident. At that time, our son was two and a half years old and I was four months pregnant with our daughter. SOWF reached out to us immediately and has held true to their motto "cradle to career" since my children were very young when their father died. Our SOWF Advocate has walked beside me with every educational decision I have made, most recently with deciding to send my kids to private school starting with junior kindergarten. I was prepared to financially pay for this private school education, on my own, but quickly found out that SOWF had begun to financially assist for private school starting in 2022.
Tears immediately rolled down my cheeks as I felt, once again, that SOWF was walking alongside me, supporting me in every educational decision I made for my children. I was not alone in this next step of parenthood, SOWF was here with us for private school. Our Advocate worked tirelessly for my children, making sure they have the best education possible.

Another aspect that makes SOWF stand apart from other organizations is that they have never once asked me to prove my financial standing. I have now been a Gold Star Spouse for two and a half years and many organizations ask to have proof of where we stand financially. SOWF does not take that into consideration – they proudly want to support family members of fallen Special Operators and, in my opinion, that has been extremely honoring to my late husband. SOWF wants to support Peter and his family simply because of the career he chose and the ultimate sacrifice that he made.

I will speak of Special Operations Warrior Foundation all of my days and how they have the utmost respect for my late husband, myself, and our two children.
I recently went through all of Peter's gear from his job and found this Pelican Case that has the Special Operations Warrior Foundation sticker right in the middle. (see below)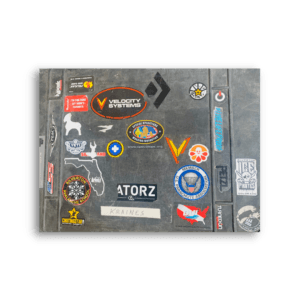 Emily is the surviving spouse of U.S. Air Force Technical Sergeant Peter Kraines, who lost his life in 2019 while serving with the 24th Special Operations Wing.