FOR IMMEDIATE RELEASE FOR MORE INFORMATION
January 15, 2020 Contact: Frank Viola
frank@ssgalexviola.org
817-581-7652
www.ssgalexviola.org

KELLER Texas – January 2020

The SSG Alex Viola Foundation will donate a total of $90,000 to the Green Beret Foundation and Special Operations Warrior Foundation(SOWF) in a 10am presentation January 23, at th
e Keller City Town Hall. Among those expected to attend will be SOWF Executive Vice President, Col. Sean Corrigan (Ret.) and Major General James G. Champion representing the Green Beret Foundation.
The money was raised in large part through the 5th annual SSG Alex Viola Memorial Car Show presented by Statewide Remodeling and American Airlines. The event took place November 10, 2019, in Keller. This represents a 50% increase over the previous year. The show drew over 350 classic cars, several hundred spectators, including 13 Green Berets, and a flyover by four F-16 jet fighters.
Over the past five years, the SSG Alex Viola Foundation has donated close to $230,000 to the two organizations.
The SSGAV Foundation was established in August 2015 in honor of Staff Sergeant Viola, who lost his life to an Improvised Explosive Device (IED) November 17, 2013. The organization's goal is to provide support for fallen and wounded Special Operations Warriors and their families.
"The SSG Alex Viola Memorial Car Show is one of the most significant local military events of the year providing needed support to our warriors. American Airlines is tremendously proud to be a part of such a meaningful organization that does great work within the military community and we're privileged to honor the memory of Staff Sgt. Viola," said Randy Stilli
nger, Manager of Military and Veterans Initiatives for American Airlines.
Plans are already underway for the 2020 show, scheduled at the Keller Town Hall for Sunday, November 8.
"We are very grateful to the participants and sponsors who continue to provide outstanding support and contribute to this event's success. To be able to support two terrific veterans organizations is extremely gratifying and exactly what my son would have wanted", according to Frank Viola, father of Alex Viola and Administrator of the SSG Alex Viola Foundation.
Attached is a link to the event video: Watch The Event Video Here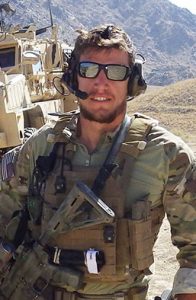 About SSG Alex Viola
Alex was born in the suburbs of Long Island New York in 1984. In 1993, the family relocated to Keller, Texas as part of a job transfer. Upon graduating high school, he enrolled into the University of North Texas and he graduated with a Bachelor of Science in Mechanical Engineering degree. Rather than entering the traditional workforce, he decided to begin his career in the military. His aim was high and he was determined to become a member of the Special Operations community.
Through years of intense physical training and subjecting himself to the physical and mental demands of Special Operations training he was determined to be one of America's best. In 2011, Alex graduated as a member of the US Army Special Forces, a Green Beret. He went on to get his Combat
Dive Certification and was later assigned to the 3rd battalion, 7th Special Forces Group (Airborne), ODA 7325 stationed at Eglin Air Force Base in Destin, Florida. In September 2013, his team deployed to Shah Wali Kot, Afghanistan as a part of Operation Enduring Freedom. On November 17, 2013 Alex lost his life to Improvised Explosive Device (IED) while on dismounted patrol.
His military education includes the Basic Airborne Course, Combat Lifesaver Course, the Warrior Leader Course, Survival, Evasion, Resistance and Escape Course, the Special Forces Qualification Course, the Advanced Leader Course and the Combat Diver Qualification Course.
Alex's awards and decorations include the Bronze Star, Purple Heart, Army Achievement Medal, the National Defense Service Medal, the Army Good Conduct Medal, the Afghanistan Campaign Medal, the Global War on Terrorism Service Medal, two Noncommissioned Officer Development Ribbons, the Army Service Ribbon, the NATO Medal, the Parachutist Badge, the Combat Infantryman Badge, the Special Operations Dive Badge, and the Special Forces Tab.

About the Green Beret Foundation
Recognizing gaps in immediate support to and in the continuity of care for injured Green Berets, Aaron Anderson, himself a Special Forces Warrior wounded in battle, founded the Green Beret Foundation in 2009. For five years, the Foundation has grown significantly in terms of size, support from the community, and most importantly, in impact. They have provided direct financial assistance to over 500 Green Berets, supported scores of families as they navigate the challenges of their new lives, and have given 90% of every dollar raised back to the Green Beret community. While the GBF will continue to focus on our

About Special Operations Warrior Foundation
Special Operations Warrior Foundation is dedicated to empowering the families of fallen special operations warriors by ensuring a fully funded education to every child of a fallen special operations service member. From cradle to career, Special Operations Warrior Foundation funds all educational expenses including early childhood education, tutoring, educational counseling, test preparation, a college preparation course and full tuition expenses to any college technical or vocational school, public or private. 
Special Operations Warrior Foundation also provides immediate financial assistance to wounded and injured special operations personnel who are hospitalized and separated from their families.