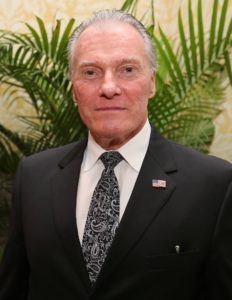 Through the years, I have had the opportunity to serve our Nation in various capacities: with the U.S. Secret Service (USSS), as the Director of the Federal Air Marshal Service (FAMS) and in other areas of International Security.
The creation of the U.S. Secret Service Counter Assault Teams and 1st SFOD – Delta coincided in the late 1970's and we worked closely together, assisting each other in our respective development. Throughout this period and beyond, I was fortunate to build long term relationships with those engaged in Delta, followed by JSOC and later the U.S. SOCOM. During these years, I was touched as a number of friends and acquaintances were killed and left behind young children.
On the morning of 9/11/2001, I had been retired from the USSS for some time, had my own protective security and training company, and was preparing to depart my residence, when I witnessed on FOX NEWS a large aircraft crash into the World Trade Center (WTC) and then a second aircraft. My first thoughts were of my son Matt, a USSS Special Agent (SA) assigned to the New York Field Office, whose office was in the WTC. My immediate efforts to contact him were futile and then he managed to contact me from a pay phone on the street; he said 'I'm OK, are you ready to copy' and began calling out the names and telephone numbers for the families of other SA's on the street with him. He concluded with, 'call their families and tell them they are okay; we're going back in!' Relieved, I began calling families with minimal success, when the WTC buildings collapsed… 45 minutes later, on a second call from Matt, I learned that he and the other SA's were in the Plaza providing triage to victims when the buildings began to fall….
Fortunately, they made it out… a second time. 
I knew from this moment forward, I would be back in law enforcement in the federal government in some capacity. Shortly thereafter, I was asked to return to the USSS to serve on a Commission their Director created to review all protective operations, as well as the security plans for the Winter Olympics in Utah and the Super Bowl in New Orleans.
On November 19, 2001, the Aviation and Transportation Security Act was passed by congress creating the TSA and establishing the Federal Air Marshal Service as a federal law enforcement agency. While serving on the USSS Commission, I was asked to become the Director of the FAMS, which I accepted and began in late January of 2002, when the USSS Commission concluded. I also knew quite well that my Brothers in Delta, JSOC and the U.S. SOCOM would be deployed shortly, be in harms way and that their families, spouses and children would need long term significant support from the Special Operations Warrior Foundation (SOWF). 
From it's inception, I was well aware of the SOWF, had friends on the board of directors, and was a contributor and supporter. In 2003, while the Director of the FAMS, I was asked to join the SOWF board. I was honored and have been every day since. It is a labor of love for our Special Operations Forces and their families.
For the past eleven years, I have been able to lead a group of friends in my community, Lancaster, Virginia, to conduct an annual golf event to raise money for, and awareness of, the SOWF. Today, I am pleased to note our success and am thankful to all those who give of their time and their earnings to support the SOWF. Thanks to our local Patriots, we have been fortunate to raise significant funds, which are directed to the surviving children and families we serve. I am also grateful to my son Matt for seeking and being selected to be an Ambassador for SOWF.