Celebrating our 40-year-old anniversary as an organization.
Over 1,100 Special Operations Warriors have lost their lives since 1980. 
Children Currently Eligible
We are currently committed to funding the education for over 900 children of fallen Special Operations Warriors.
400 children have graduated college through the support of SOWF funding and dedicated partnership with the Scholarships & Family Outreach team.
We provide immediate financial assistance to severely wounded, ill, and injured Special Operations Warriors requiring hospitalization.
There are over 1,450 surviving children of fallen Special Operations Warriors since 1980.
Former SOWF President Col John T. Carney (1999-2013)
Colonel John T. Carney Jr, USAF, Retired, or as many of you know him, Coach, shares his memory of Desert One, Eagle Claw and the founding of Special Operations Warrior Foundation. Then Major Carney, was first on the ground for the reconnaissance mission prior to the operation and commanded the Combat Control team during Eagle Claw.

As Special Operations Warrior Foundation celebrates our 40-year anniversary, we would like to thank all the donors, Foundations and companies that contribute financially to our mission. We could not do this without you!
SOWF is happy to announce that we have expanded our efforts and now also provide fully funded educations to the children of both deceased and living Medal of Honor recipients.
Needless to say, with limited access to college and technical school campuses and our in-person standard supportive services, 2020 has been a challenging year. Much-deserved credit to our Scholarships and Family Outreach team for stepping up throughout this uncharted territory to make the proper adjustments within our existing virtual environment to ensure that every student received all the tools necessary for success. Despite the pandemic, we are happy to announce 41 students graduated high school this past spring, 13 college students earned their degrees, and approximately 180 students enrolled in college this fall.
We currently have over 900 children eligible for full educations. We also continue to provide financial assistance for severely wounded, ill or injured Special Operations Forces. With an average annual cost per college student of $14,865, and "cradle to career" average cost per student of $150,000, together, we can recognize our fallen Special Operations Forces, those who paid the ultimate price to defend our very freedoms, by taking care of their children while lifting the financial burden from surviving spouses. It's the least we can do.
Sincerely,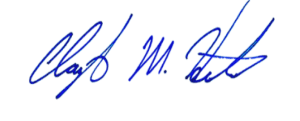 Clayton M. Hutmacher
Major General, U.S. Army, Retired
President and CEO
Special Operations Warrior Foundation