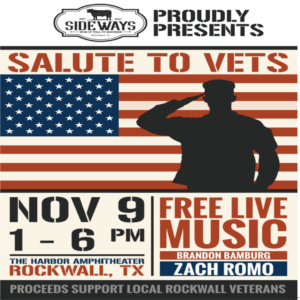 Sideways BBQ with the Terry Fisher Post American Legion are putting on a FREE Veteran's Day event @ The Harbor!
You are invited to listen to the only Medal of Honor Recipient who saved another Medal of Honor Recipient.
The event will host local favorite musician Brandon Bamburg and the Zach Romo Band.
Come out and show support to so many local Rockwallian's that have served in the U.S. Armed Forces. 
A portion of proceeds will benefit Special Operations Warrior Foundation